MIT's PIT Community Expands: Public Interest Technology New England (PIT-NE) Network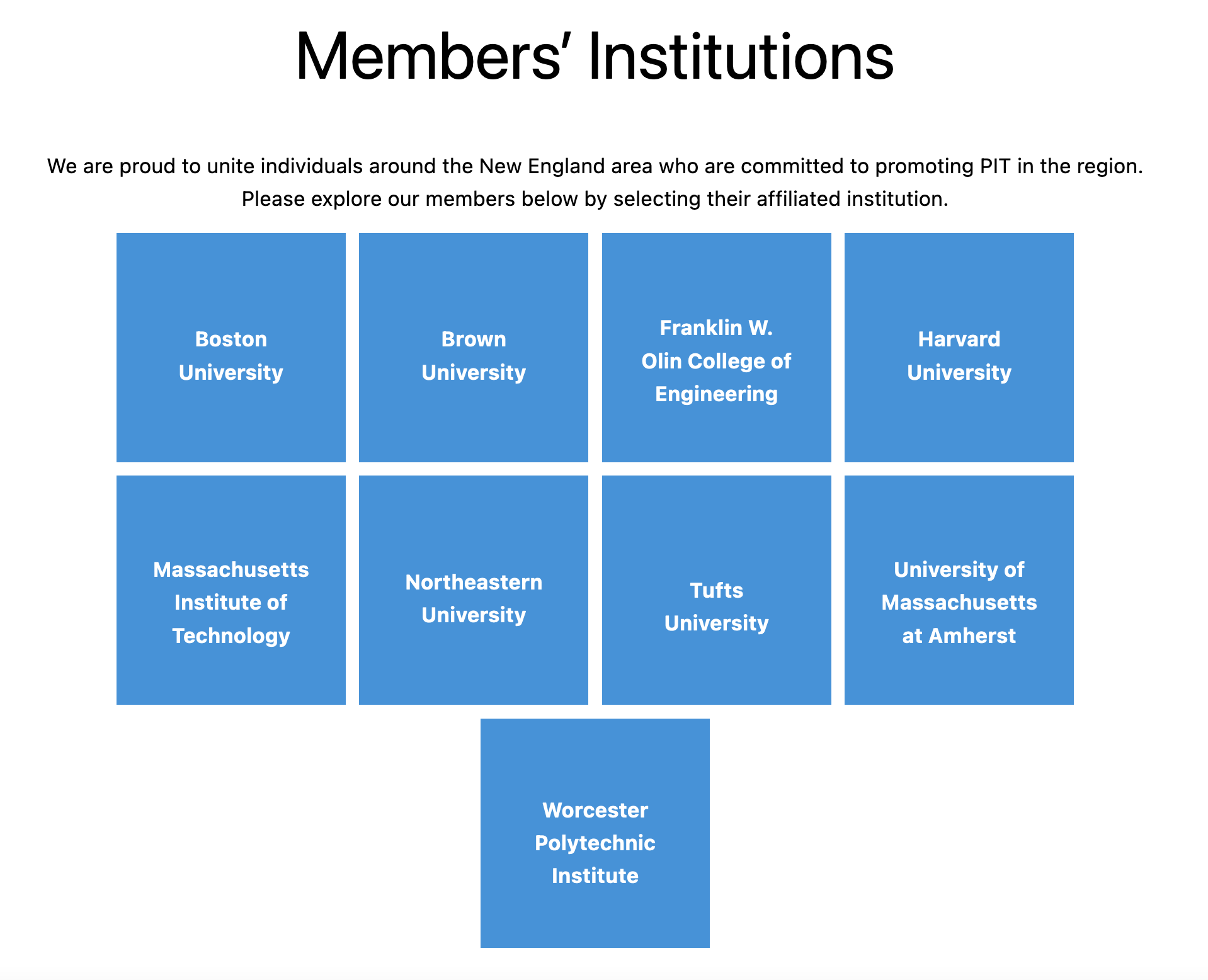 MIT has joined the Public Interest Technology New England (PIT-NE) Network, spearheaded by nine institutions. In addition to MIT, PIT-NE members include Boston University, Brown University, Franklin W. Olin College of Engineering, Harvard University, Northeastern University, Tufts University, University of Massachusetts at Amherst, and Worcester Polytechnic Institute.
The Public Interest Technology Network of New England (PIT-NE) will provide a framework for synergistic programming in higher education and workforce development in Public Interest Technology in New England. With a coordinated set of program components, we expect PIT-NE to accelerate the development and institutionalization of PIT at regional higher education institutions and to provide expertise, experience, and training to a workforce who can use technology to positively address and resolve societal challenges. In particular, PIT-NE seeks to:
Increase connections, support and success for PIT-focused faculty interested in public interest technology
Expand PIT training, experiences, and opportunities for students
Increase regional visibility and impact of public interest technology and build PIT partnerships throughout the region
Contribute to national PIT-UN efforts and provide mentorship and a model for other regions who seek to promote PIT through the development of PIT-focused hubs.
PIT-NE believes that establishing the Public Interest Technology Network of New England (PIT-NE) as a regional hub will broaden and strengthen PIT programming and workforce development throughout the region, and can also serve as a model for other regions as they develop their own networks. PIT-NE will also provide a mechanism that can be used to raise funds from regional trade associations, foundations, and local governments to build public-private partnerships that can help sustain the network and foster a workforce that can address real-world challenges and applications in New England.
Looking Ahead
PITNE is looking to partner with more higher education institutions in New England to grow our network and increase our coverage of the region. By engaging students and faculty at regional institutions, we will be able to facilitate regional PIT programs, activities, and events. We are also looking to establish mutually beneficial relationships with industry partners to create an efficient pipeline from academia to industry.
Join the Network
PITNE is actively looking to expand its network so if you are enthusiastic about Public Interest Technology and are ready to contribute to our movement, we would love to hear from you!
Please reach out to: info@pitne.org